AUGUST 10, 2023: 2023 NWPA SPE GOLF OUTING! Save the Date!
JUNE 21-22, 2023: Join NWPA SPE as we sponsor the Innovation and Emerging Technologies Conference at Penn State Behrend. Stop at our booth and get yourself some fancy SPE Swag! Details to come!
NOVEMBER 16, 2022: Wednesday is wonderful when you hang out with a bunch of engineers at the McKean Tavern! 5.30pm.
AUGUST 11, 2022: ANNUAL GOLF OUTING. Join us at Whispering Woods for a great time!
MARCH 30, 2022: Reserve your spot now for our first in-person meeting in a very long time! Join us on the last Wednesday of this month at Hooch and Blotto's on Peach Street in Erie. 5.30pm social; 6.00pm dinner; speaker to follow. $20 for SPE members. $25 for Non-SPE members. $10 for SPE students. Dinner will be Stuffed Chicken Breast, Port Loin, Potatoes, Vegetables and Salad.
Speaker: Jennifer Schmidt, Senior Instructor, Beaumont
Topic: Injection Molding Simulation—What Can I Trust?
Molding Simulation can be a very powerful tool, but you need to understand what to trust and what not to trust in those pretty pictures that come with the results. This presentation will dig into what questions to ask and what needs done to make for a successful Molding Simulation.
Click HERE to reserve your spot!
FEBRUARY 16, 2022: Our first social of the year (and the first in a long while) is at the Twisted Elk Brewery in Lake City, PA. We would love to see some of our west county members join us Wednesday at 5.30pm. See you there!
DECEMBER 16, 2021: Christmas season is here and with it comes the annual NWPA SPE Christmas Dinner and Plastic scholarship awards. Please join us at the Colony Pub and Grille for a 5.30 social, 6pm dinner and applause as we give away money.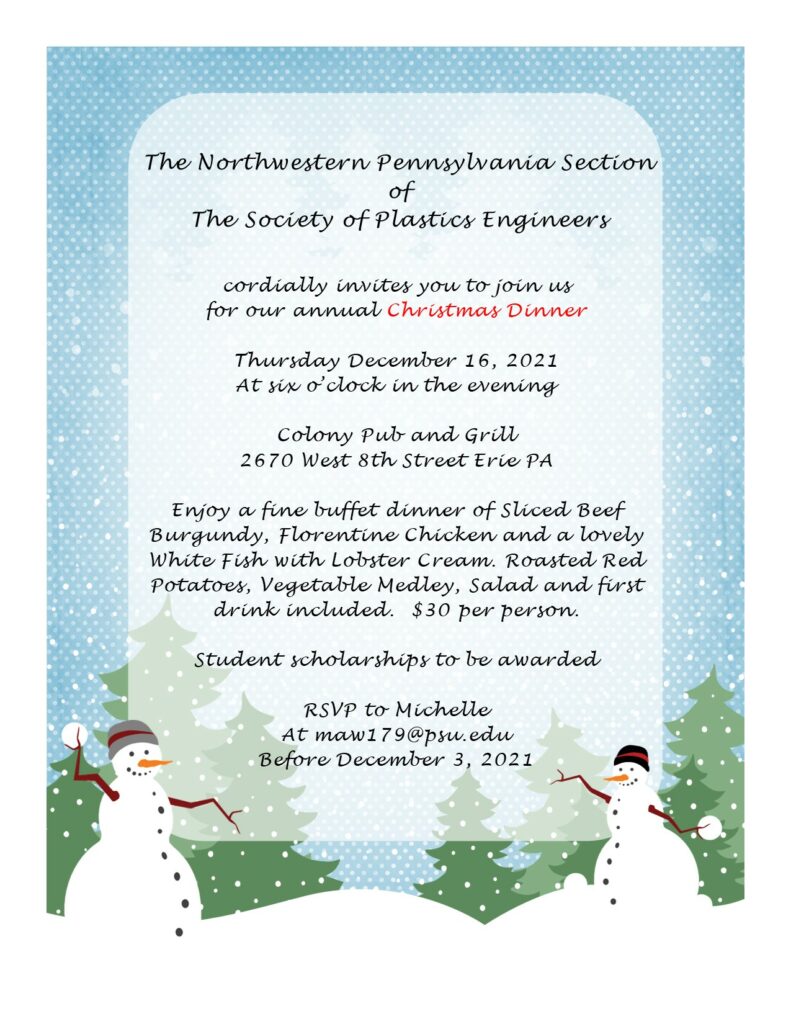 NOVEMBER 18, 2021 – Join us for a social where we will be discussing all the things we want for Christmas! Like a Covid free new year where we can finally go on a plant tour and have an in-person speaker. (event canceled)
OCTOBER 2021 – Regrettably, due to that nasty Covid returning in force, we have to cancel our planned plant tour. Stay tuned for our third attempt next spring.
AUGUST 12, 2021 – NWPA SPE GOLF OUTING. Last year's golf outing consisted of 3 teams taking advantage of the Peak's 'special tournament offer' to golf at our negotiated price by scheduling their own tee times. But this year the golf outing will be back in it's usual format. New this year is a Hole-in-One contest sponsored by Die-Sep. Brody Hammond (Entec) returns with the Putting Contest. There are plenty of Cash Awards, Gifts and Raffles to be won. 10am registration/11am shotgun start/Dinner to Follow
JUNE 10, 2021 – Join us on Thursday June 10 as we finally get out and about at the Riverside Brewery in Cambridge Springs! You can find any board member at the outside bar and say hello. SPE members and Guests are all welcome to join us – but if you are a current SPE member we will buy you a beer between 5.30pm and 6.30pm!
MARCH 1, 2021 – Join us for an on-line webinar about "Recycling For the Circular Economy" on Thursday March 11, 2021 at 5.00pm EST. Our Speaker is Helmut Brenner from Shell Chemical.
The chemicals business is one of Shell's key growth priorities with a strategic emphasis on carbon reduction and plastic circularity. This focus will result in many beneficial new programs including a plan that by 2025, will process one million metric tonnes of post-use plastic per year across Shell's global chemical facilities located in the US, Asia and Europe.
The majority of plastics used are never recovered. About 90% go to landfill in the US and Canada. Recycling infrastructure and end markets are constrained by an outdated downgrading model. This presentation will show how advance recycling combined with the mass balance approach solves both of these issues.
AUGUST 4, 2020 – If you still want to golf on Aug13, Peek'nPeak is offering a special price when you mention NWPA SPE TOURNAMENT. You can reserve your own tee times, but you will get a great rate for the golf and the hotel. Leave your scorecard at the proshop when you finish and if we have over 10 foursomes we will raffle off a gift. BONUS – This actually qualifies us for having a golf tournament this year, so we are still on a continuous string.
JULY 28 – Dear SPE golfers and supporters,
After careful consideration and much discussion, we are sad to report that the NWPA SPE Golf Outing scheduled for Aug 13, 2020 is canceled. Whilst we were prepared to wear masks and distance and sanitize for everyone's health, we found that new outing guidelines along with a daily risk of NY quarantine mandates convinced us otherwise.
NWPA SPE is committed to providing quality programs for our membership and we feel that under current restrictions this would not have met that criteria. We look forward to smaller social events in the future, a return to regular programs as soon as possible, and a fabulous 2021 golf outing. Thank you for your support.
Stay healthy,
NWPA SPE BOD
JULY 10 – Please see the Golf drop down menu for all Covid related updates. You will see some changes at the outing this year. Please do not forget your mask as it will be needed inside and in close areas like registration.
Thank You Golf Donors!
Shell Polymers
Advantage Engineering
RheTech Colors/Hexpol
Reiloy USA
Slide Products
Matrix Tool
Allegheny Machinery Group
Thank you Past Sponsors!
Port Erie Plastics
GeorgeKo
Autodesk
Plastek Group
Beaumont Technologies
Nabla
Polymer System Solutions
Matrix Tool
Sumitomo Demag
Reiloy
Partners in Plastics/HFA
Engineered Plastics
Plastikos
Accudyn
M Holland
NEXEO
Ascend Polymers
AIM NationaLease
Advantage Engineering
Shell Polymers
Ameripac
Reliant Molding
Rinco
TriStar
Chase Plastics
Process Cooling
Tooling Components
PCS Company
Teknor Color
Allegheny Machinery Group
Absolute Haitian
Entec Polymers
Reddog
BPS Staffing
Engineered Plastics
XCell Tool and Mold
C4 Polymers
I Stern
The Plastics Group
RTP
DME
Standridge Color
AMCO
Anderson Polymers
API II
BKI Recycle
Die – Sep
Mitsubishi International
PolyOne
RheTech Colors
PSN
Suburban Tool